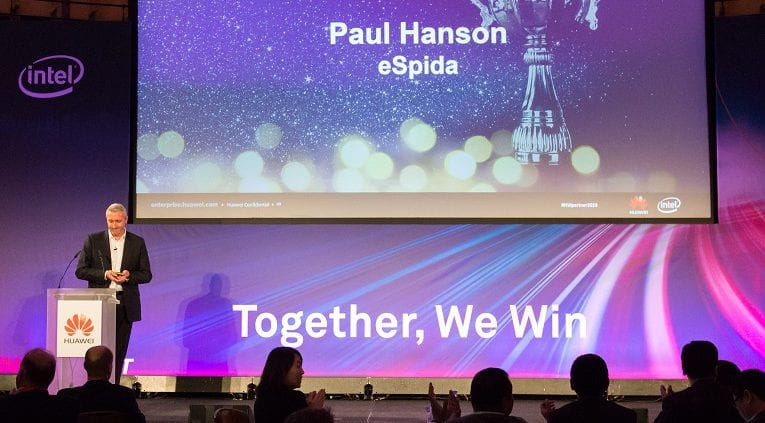 Paul Hanson, Director of Birmingham IT consultancy eSpida, has been crowned Huawei's presales person of the year at the IT and telecoms giant's UK enterprise partner summit. The award commends Paul's enterprise IT expertise and commitment to finding strategic uses for Huawei's technology to provide value for mid-to-large size businesses across the UK.
Paul's award win is an affirmation of eSpida's position as a leading UK Huawei partner for enterprise, fending off competition from the 300+ Huawei partners across the country
The award was given in part due to the success of recent projects Paul has delivered with eSpida, for businesses including high street retailer The Works, building materials manufacturer Kingspan and the Birmingham Hippodrome.
In the case of The Works, eSpida modernised the company's IT infrastructure to help the company's website automate its warehouse operations, improving distribution to its network of over 400 physical stores and improve productivity by 60 per cent.
"Paul was nominated based on his contribution to several key projects in the UK," explains Michael Rae, Channel Director at Huawei Enterprise. "Apart from the projects themselves, Paul has embraced Huawei's end to end technology offering and has the proficiency to position Huawei as a key technology vendor. Paul's expertise coupled with our huge focus on innovation authenticates eSpida's position as a long term strategic Huawei partner."
This focus on strategy is indicative of Paul's view of modern enterprise computing, where he argues that IT is becoming an increasingly valuable resource for businesses rather than just a system to support operations. This philosophy is reflected in the work of eSpida.
"To be presented with the Huawei presales person of the year award is a humbling reflection of not only my work, but the achievements of the whole eSpida team," explains Paul. "Huawei represents a comprehensive enterprise portfolio that I am proud to be connected with and to recommend to businesses."
"For most companies, digital transformation is a key area of focus that many IT specialists are still struggling to address, which makes Huawei's enterprise technologies invaluable to them. The first step to successful digital transformation is to have the right infrastructure in place. This lays the groundwork for technology that gives businesses the option of providing IT solutions as complementary services to existing products, adding value to the business."
"While we are a Huawei partner, at eSpida we don't set out strictly to sell the product or system. For us, success is delivering first class IT consultancy, giving our customers the tools to facilitate their growth and get where they ultimately want to be. It's this ethos that underpins our work, and it's with this ethic that we provide everything from Huawei blade servers to private cloud architecture to make businesses as agile and effective as they can be."
eSpida is an authorised Huawei Enterprise partner, providing a range of networking, communications, cloud computing and infrastructure services from Huawei's extensive enterprise portfolio. For more information on eSpida's award-winning IT consultancy and IT infrastructure solutions, email [email protected] or call 0344 880 6145.
https://www.espida.co.uk/wp-content/uploads/2018/06/Huawei-summit_274-cropped.jpg
688
765
Katie Mansell
https://www.espida.co.uk/wp-content/uploads/2017/08/eSpida_log_nobg-300x138.png
Katie Mansell
2018-06-07 11:16:01
2018-06-07 11:20:08
eSpida triumphs at Huawei Enterprise awards ceremony